PRODUCT DETAILS
✔ Rethink Limitations
A Professional Rail-Mounted LEP Tactical Light.
✔ Revolutionary LEP Light Source
The Odin Turbo takes the lead to meet the Class 1 standard as an eye-safe LEP light, delivering a much more concentrated, steady, and even output than LED lights.
✔ Light Saber With Ultra Range
1,050-meter throw with nearly no-spill based on 330 lumens, making it easy to penetrate smoke and fog. Extremely sharp and precise beam for hunting, positioning, and tactical use.
✔ Patented Magnetic Remote Switch
The magnetic end of the remote switch is enhanced by a quick push-to-lock mechanism. Stay safe and in command at all times.
✔ Reliable Customized Battery
Powered by a customized 5000mAh 21700 battery with a max runtime of 7.5 hours. Charge easily with the included MCC3 magnetic USB charging cable.
✔ Two-Stage Tactical Switch
High or low, momentary-on or constant-on; a single tail switch for your instinctive operations.
✔ Everything You Need
This light utilizes our exclusive rotate-to-lock slide rail mount for maximum convenience and safety. The included magnetic remote switch features a lock-on ring for a swift and tight fit with the stainless steel tailcap.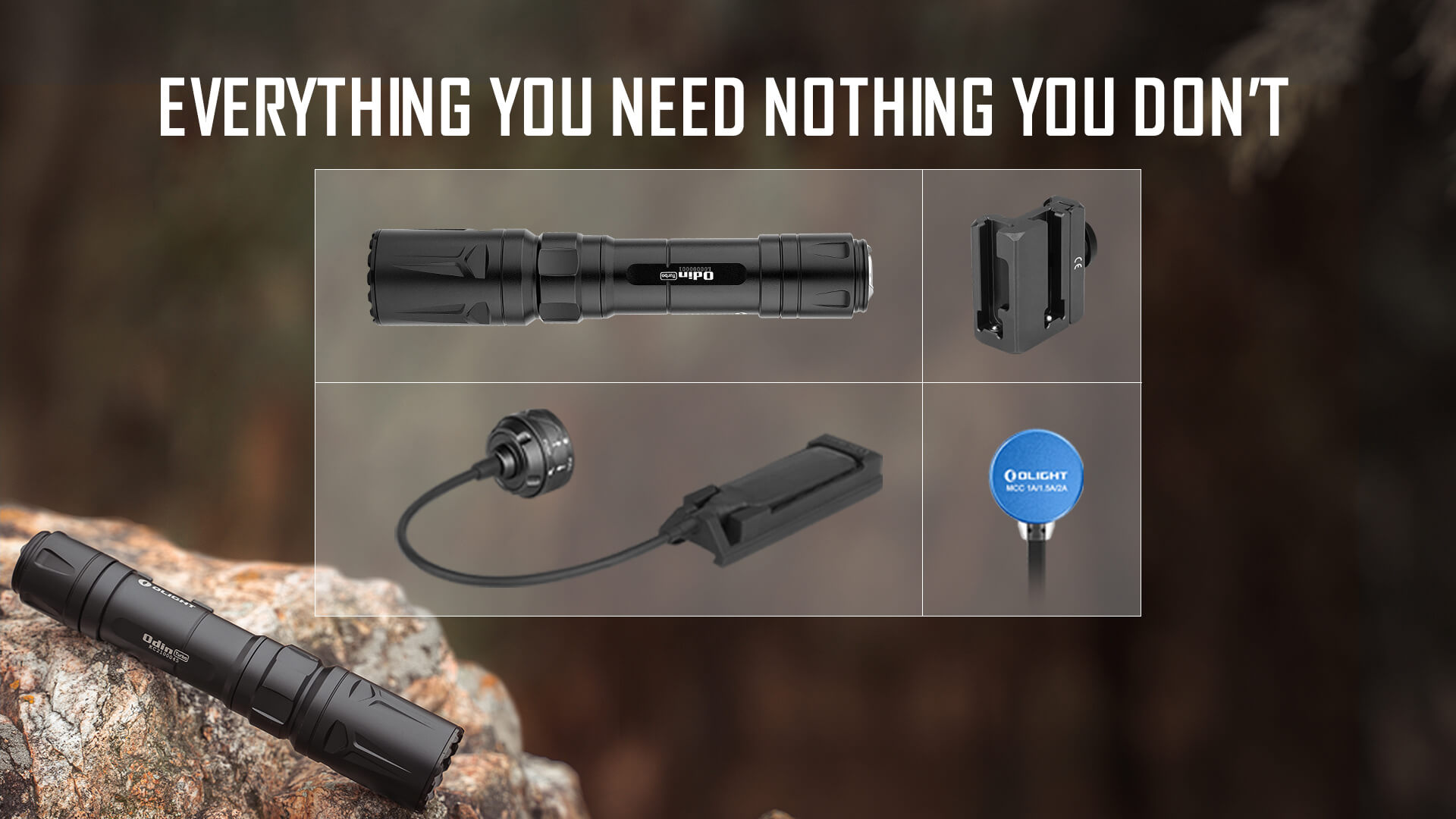 OLIGHT PROMISE
Beam Distance
3,444 ft (1,050 m)
Max Performance
330 lumens
Charging Type
MCC3 Magnetic USB Charging Cable
Compatible Batteries
Customized 5000mAh 3.6V 21700 Rechargeable Lithium Battery (Included)
Max Light Intensity
275,625 candela
Light Source
High Performance LEP (4,500~5,000K)
Lens / Reflector Type
Protective Glass Lens
Mode Operation
Magnetic Tail Switch
Form / Size Factor
Medium Size
Run time High
30 minutes + 150 minutes + 30 minutes
TECHNICAL CHARACTERISTICS
Weight
8.78 oz (249 g) (Including Battery)
Head Diameter
1.22 in (31 mm)
Body Diameter
1.05 in (26.6 mm)
Use
Self-defense, Law Enforcement, Tactical Use
.
Odin Turbo (Battery Included) x 1
·
MCC3 Magnetic USB Charging Cable x 1
·
Magnetic Remote Switch (With Stand) x 1
| File Name | Size | Link |
| --- | --- | --- |
| Odin Turbo User Manual.pdf | 971kb | Preview |